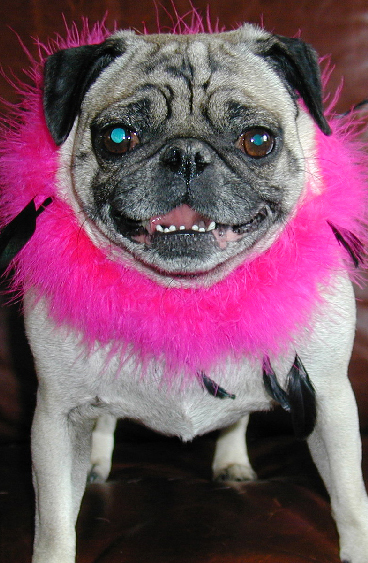 Share Mattie's Story
Mattie
Not Given - February 17, 2014
Mattie's Beautiful Life
Princess Madeline Tonasket Albright was feisty from the beginning and adored being in front of a camera. As the Doggie Diner super model she was always being photographed. Whenever people aimed a lens at her, she would pose. Once a Seattle Times photographer was shooting her for the Rain Festival and she posed in the rain with her front feet on Dirty Dan's bronze statue in the cold for a good 10 minutes while he took pictures. She loved it!

She appeared in People Magazine in June of 2001, Good Housekeeping, Dog Fancy magazine, Hello in England and many other publications. She and I appeared on nearly every news program around the world and I have a long video of our interviews. She was on Seattle Afternoon and the Vicki Gabereau Show in Vancouver (at that time, Canada's equivalent of Oprah) and stayed in fancy hotels, including the Westin in Seattle. Mattie visited Tiffany's, Chanel and Nordstrom.

Mattie was on the cover of the Take 5 having her nails done pink at City Dogs grooming- something she did monthly for a long time. She would lounge with her paw stretched out like a diva at a spa.

She has a couple of trunks of clothing, from party wear to halloween costumes. She loved dressing up and I would lay out her clothes and she let me know which one she wanted to wear.

After the Doggie Diner was sold then then closed, Mattie appeared at the annual Pacific NW Rain Festival as the weather Prognosticating Pug and was written up many times in northwest newspapers and magazines. The was often brought out to the festival sitting leisurely on a couch carried by guys in costume and surrounded by the Ladies of the Evening. She would be hoisted to the sky and petted by the "Reigning Queen" to check for rain. If she was dry, it was certain of 7 more weeks of winter. If she was wet, it was usually the same thing. If it was stormy, we all went into Skylarks to drink, Mattie in tow. She held court on her couch by Skylarks' fireplace.

She had her portrait taken by Mark Turner, photographer.

She lost her sight about 4 years ago and became diabetic. She continued to visit Fairhaven cafes and enjoyed public attention for several years after. Eventually arthritis took her ability to walk. She passed away on Monday, February 17th at the age of 14.

Subscribe to Mattie's tale to receive updates when new messages have been added to the message wall. We take privacy seriously and do not share your personal information with anyone. Fill in the form below to subscribe.
You have been successfully unsubscribed from this pet tale.