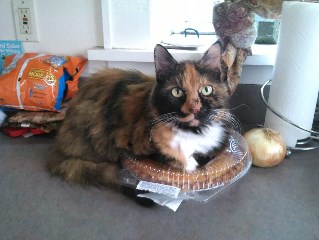 Share Sifu El Kitty Gato's Story
Sifu El Kitty Gato
August 15, 2000 - June 29, 2015
Sifu El Kitty Gato
Sifu El Kitty Gato, 15, passed away on June 29, 2015 in St. Petersburg, FL after a short illness. She was born in South Berwick, Maine in 2000 and moved several times before settling in Florida. "Sifu" is the Chinese word for "Master". However, many people misheard her name and thought her name was "Sea Food". This error was okay with Sifu as food was extremely important to her. Few foods offended her palate. Her favorite food was beans and she would often sing "beans, beans, beans, beans" whenever the moment struck her. When she was not singing about beans, she would randomly list off the foods she liked. You could be asleep, wake up and find her hovering over you saying, "and I like pot roast and melon and Chinese food and Italian food and bacon and chicken and beans and steak and fish and beans and crème brulee and spaghetti with meatballs, spaghetti without meatballs, spaghetti with sausage, spaghetti with garlic bread, lasagna, obviously, prime rib, scragg end, beans, cheese of all types, including, but not limited to, and not necessary listed in order of preference, cottage, cheddar, mozzarella, Swiss, New York cheddar, Vermont cheddar, sharp cheddar, extra sharp cheddar …". In fact, the only food she seemed to dislike was eggs. When not talking about, or eating, food, Sifu could be found in the shower. Showering was her favorite hobby and she could be found showering several times a day. Unfortunately, without opposable thumbs, she was unable to turn the shower on by herself and would often demand that you "turn the <bleep> water on!". She was not opposed to showering with others, even people she barely knew. One time, when her mother inadvertently left the toilet seat up, she had a delightful time playing in what she deemed was her personal Jacuzzi. She thought it was really neat that the "Jacuzzi" turned her paws a pretty blue. Sifu is predeceased by her arch enemy, Minion, M.F., who she hated with a passion (see http://www.petpassages.com/pet-tales/137), and by Admiral Parker, who she liked. She is survived by her family, Tom, Mummas and Alyssa, by her roommates Itchy Doodle Doo, Dio, Harold, Clara and Sobe, by her grandmother, her Uncles Brian and Albert and Aunts Joyce and Jean. She is also survived by her very close and personal friends Russell, Joseph and F.U. Toddy. Services were held on June 29, 2015 at Sifu's home, where attendees delighted in Mexican food with beans. In lieu of flowers, donations may be made in Sifu's name to the Humane Society.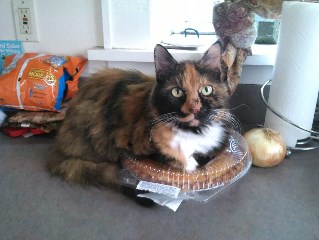 Subscribe to Sifu El Kitty Gato's tale to receive updates when new messages have been added to the message wall. We take privacy seriously and do not share your personal information with anyone. Fill in the form below to subscribe.
You have been successfully unsubscribed from this pet tale.