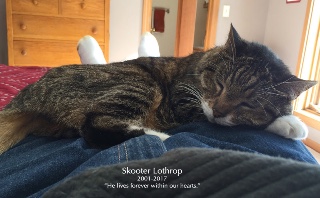 Share Skooter's Story
Skooter
September 15, 2000 - February 20, 2017
Best Friend Ever
Skooter was with us for sixteen and a half years. We found him at a animal rescue house in Lompoc, California so we called him our "California cat." His wonderful disposition was equal to his constant companionship. This photo shows him on his daddy's lap — one of his favorite spots. We miss him so very much and keep looking for him at the top of the stairs to greet. We've made plans so he'll be going with us when we too take the final journey and we look forward to reuniting with him then. God bless you, our little friend.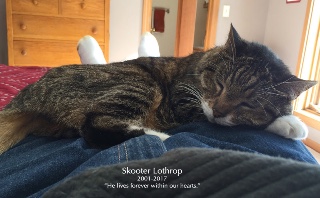 Subscribe to Skooter's tale to receive updates when new messages have been added to the message wall. We take privacy seriously and do not share your personal information with anyone. Fill in the form below to subscribe.
You have been successfully unsubscribed from this pet tale.